Smarter Decisions. Better Results.
---
---
We are a high-tech company that combines Optimization, Machine Learning and Artificial Intelligence techniques to create innovative and customizable AI-based decision support solutions that drive operational productivity and efficiency.
Customer Case Study

Optimized Milk Run Inbound Logistics for Toyota Assembly Plants, reducing transportation costs by 10%.
DecisionBrain's Company Brochure
Learn about DecisionBrains' solutions and technology by downloading the datasheet today!
Manufacturing, Supply Chain, Production Planning and Scheduling
Our team has over 20+ years of experience in optimizing manufacturing processes across several industries on a global scale. Our solutions can be adapted to the needs of several types of plants and lead to significant improvements across different dimensions (e.g. throughput, changeover, lead times, labor costs, material management, scrap reduction, warehouse capacity, and shipping costs).
IBM Decision Optimization Center
powered by

Enables Business Decision Makers
An optimization platform to create, deploy and maintain fully scalable decision support solutions. Quickly, easily, efficiently.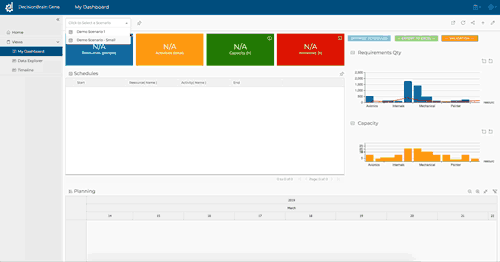 Book a personal demo or speak with one of our product managers to learn more.