Filter Resources
All

(

)

Press Release

(

)

Brochure

(

)

Data Sheet

(

)

Technical Blog

(

)

Awards

(

)

Whitepaper

(

)

Events

(

)
We are proud to announce that today DecisionBrain is one of the signatories committed to becoming environmentally friendly digital technology at Planet Tech' Care....
DecisionBrain annonce un accord selon lequel IBM inclura dans son offre de produits de données et d'IA une version OEM de la plate-forme d'optimisation DecisionBrain. La...
DecisionBrain est heureux d'annoncer qu'il a été sélectionné par Carhartt, une société américaine leader dans le domaine du vêtement, pour développer, en partenariat avec IBM,...
Babilou est un important réseau privé de garde d'enfants basé en France, avec une présence dans 12 pays et environ 700 établissements. Le projet de DecisionBrain appelé MODE...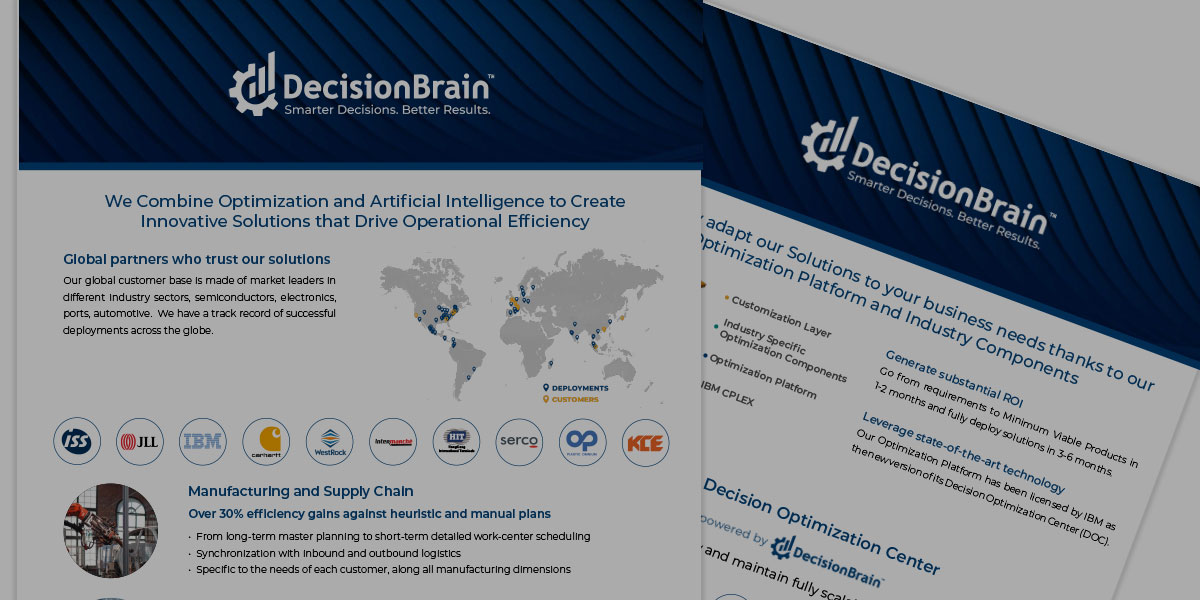 Download the DecisionBrain Company Brochure PDF, We Combine Optimization and Artificial Intelligence to Create Innovative Solutions that Drive Operational Efficiency...
AI for Digital automation, a promising public-private innovation project. But it is necessary to advance the state of the art in Artificial Intelligence and to solve several...
We are proud of the DecisionBrain Team that participated in the Axa Code Contest 2020 "Héros and Métros", ranked 8th among 70 teams. The Code Challenge consisted of minimizing...
Download our Professional Services Methodology PDF, DecisionBrain has developed Services best practices, trainings and tools tosupport our customers in the journey to reach...
We are excited to announce, today on the 50th Anniversary of Earth Day, that DecisionBrain's headquarters in Paris have switched to 100% renewable energy by joining Planète OUI....
Babilou is a leading private childcare network based in France, with a presence in 12 countries and around 700 establishments. The DecisionBrain project called MODE (Match de...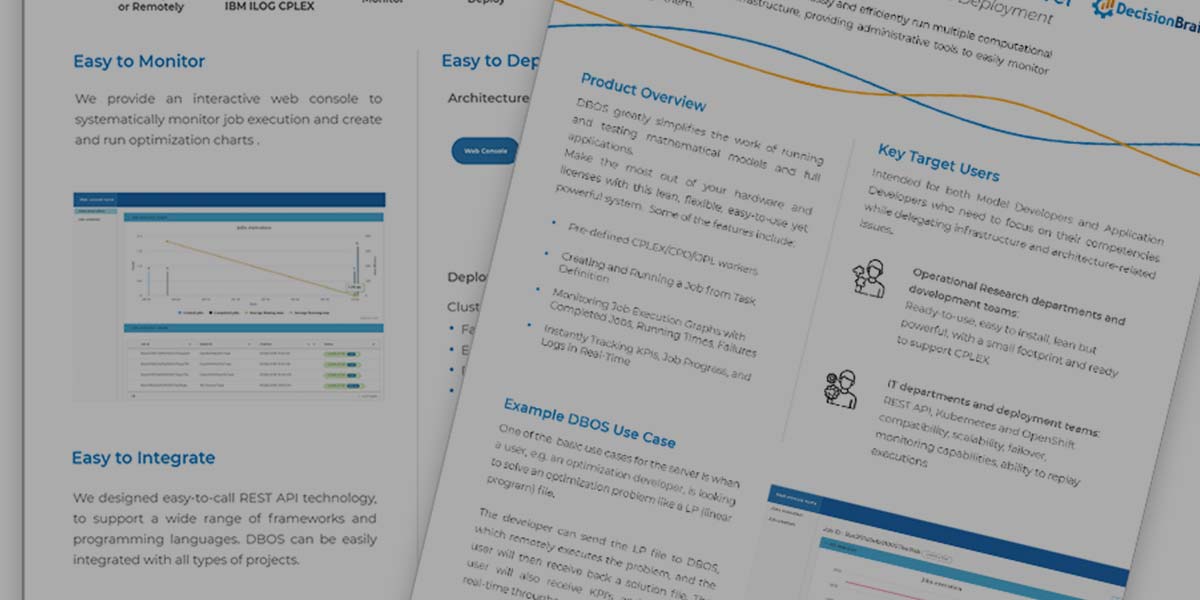 Download the Field Service Management Whitepaper by DecisionBrain. Increase your knowledge of the industry with key tactics for choosing your software solution. Includes a...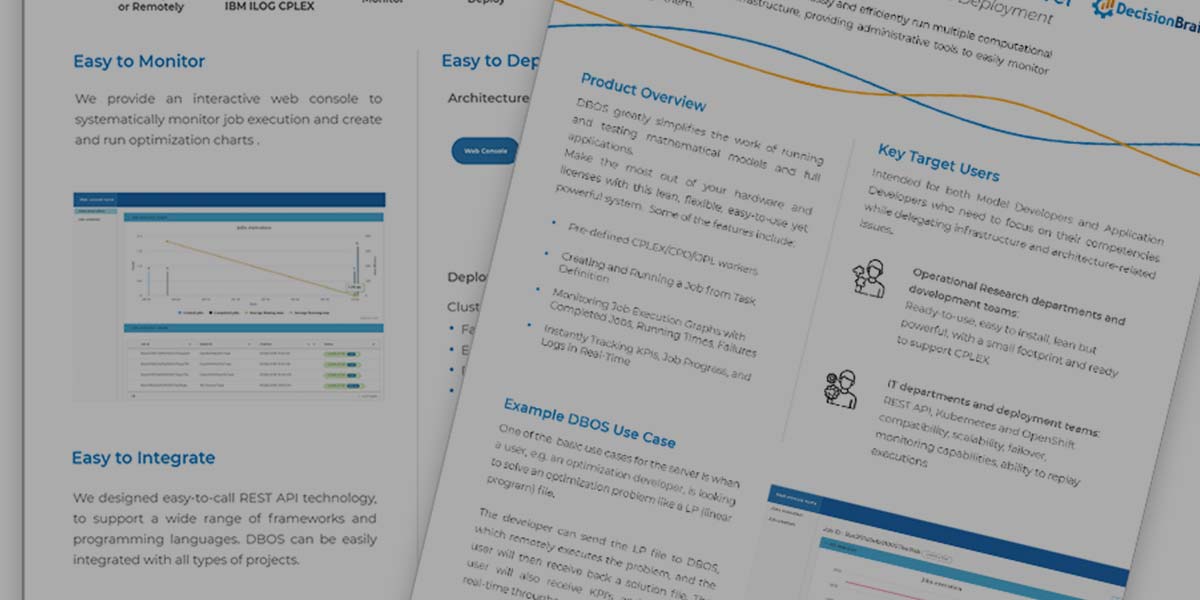 Download the DOC Datasheet from DecisionBrain. Learn more about the important features included in DOC 4.0. this included components, customers and use cases....
DecisionBrain announces a deal whereby IBM will include in its Data and AI product offering an OEM version of DecisionBrain optimization platform. The platform will be...
Operations Research (OR) is a science with solid grounds coming from mathematics (graph theory, combinatorial optimization, convex and non convex geometry …), artificial...
If you're like me and you work in a company that uses Gradle as its build tool, you may have wondered, while writing the build scripts for your project, what exactly should go...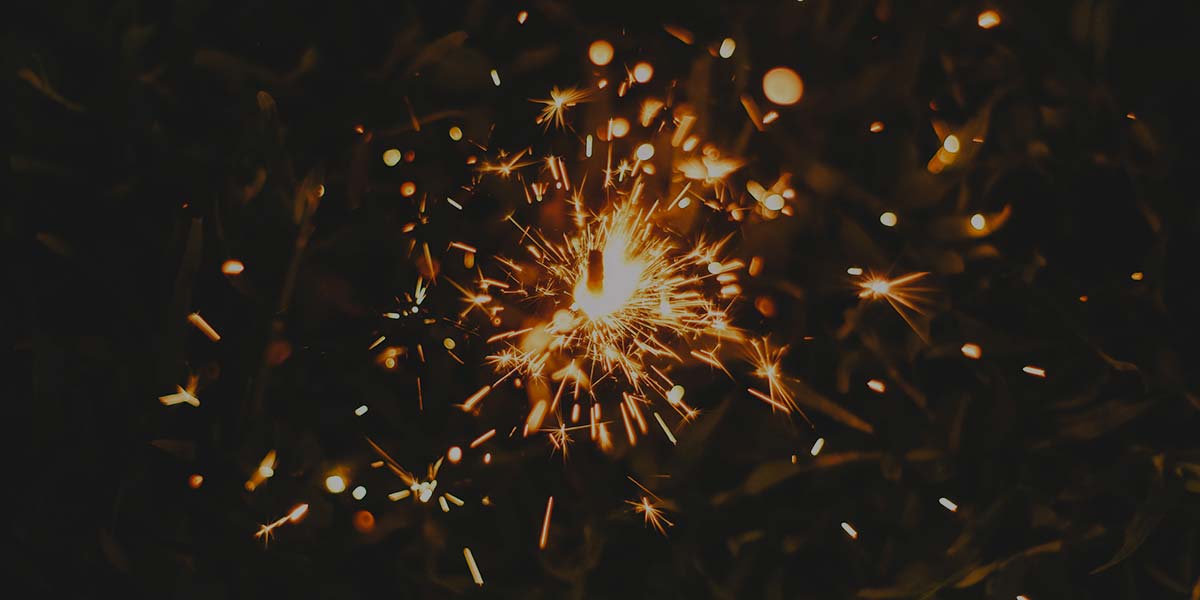 In 2018 DecisionBrain's Bike Sharing Solution was a finalist at the IBM Beacon Award for Outstanding Analytics Solution. The IBM Beacon awards are given to IBM's Business...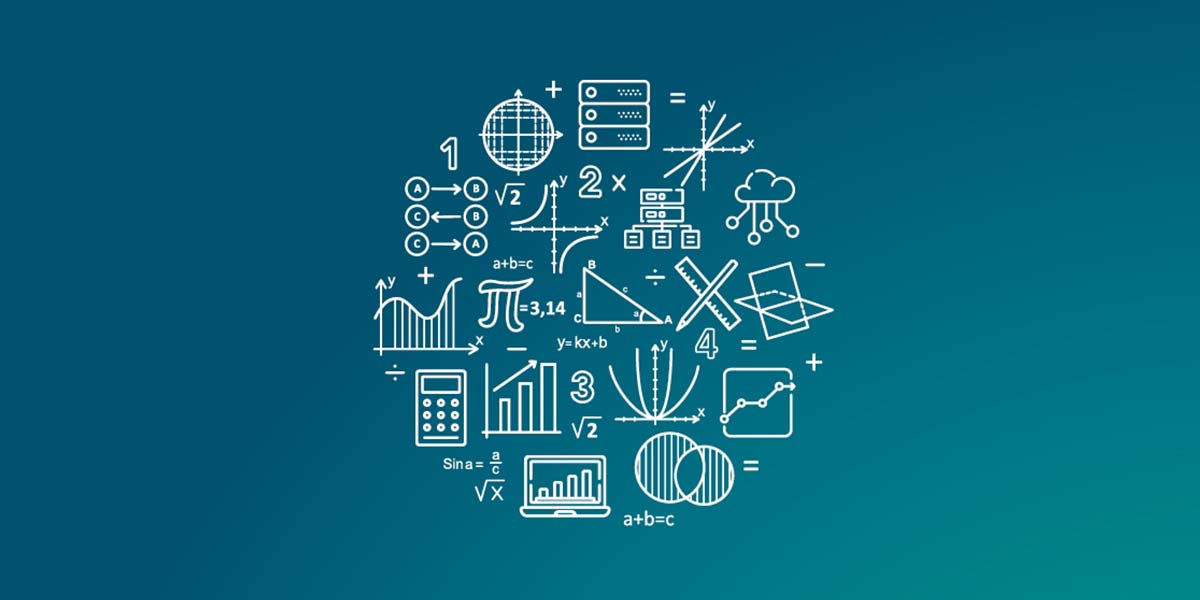 ROADEF rewarded DecisionBrain twice with 'Les pros de la RO' for the best OR project of the year: In 2018 for our Bike Sharing Solution In 2015 for Multi-Vessel Optimization...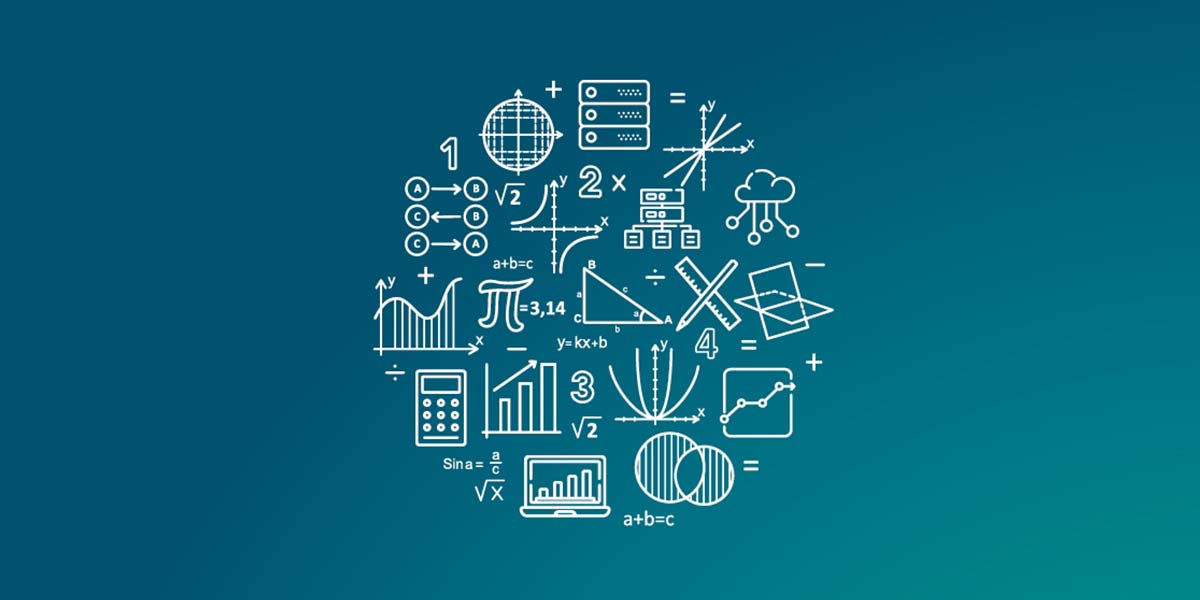 DecisionBrain participated as a Partner Company at ROADEF 2020 in Montpellier. ROADEF (Société Française de Recherche Opérationnelle et d'Aide à la Décision) is an association...
DecisionBrain is glad to announce that it has been selected by a leading french retailer, to develop a solution to predict short and mid-term cash flows at a store and...
DecisionBrain is glad to announce that it has been selected by a call center provider to develop a workforce tactical and operational planning solution. In order to maximize...
Book a personal demo or speak with one of our product managers to learn more.