IBM Decision Optimization Center 4.0: Optimization at Business Users' Fingertips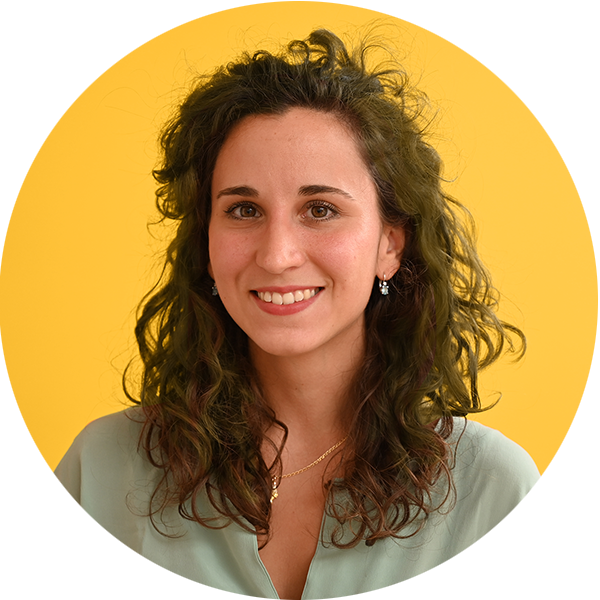 DOC 4.0 Makes Optimization Actionable for Business Users
On December 6, 2019, we delivered the next generation
IBM Decision Optimization Center (DOC).
DOC 4.0 is an IBM product. It inherits all the good ideas of the older generation IBM DOC and embeds the "secret sauce" of DecisionBrain successful solutions — all this in a brand-new platform, based on modern and open-source technologies.
The end goal of DOC 4.0 is to facilitate the process of making optimization actionable in the hands of business users, i.e. bring optimization models into business operations.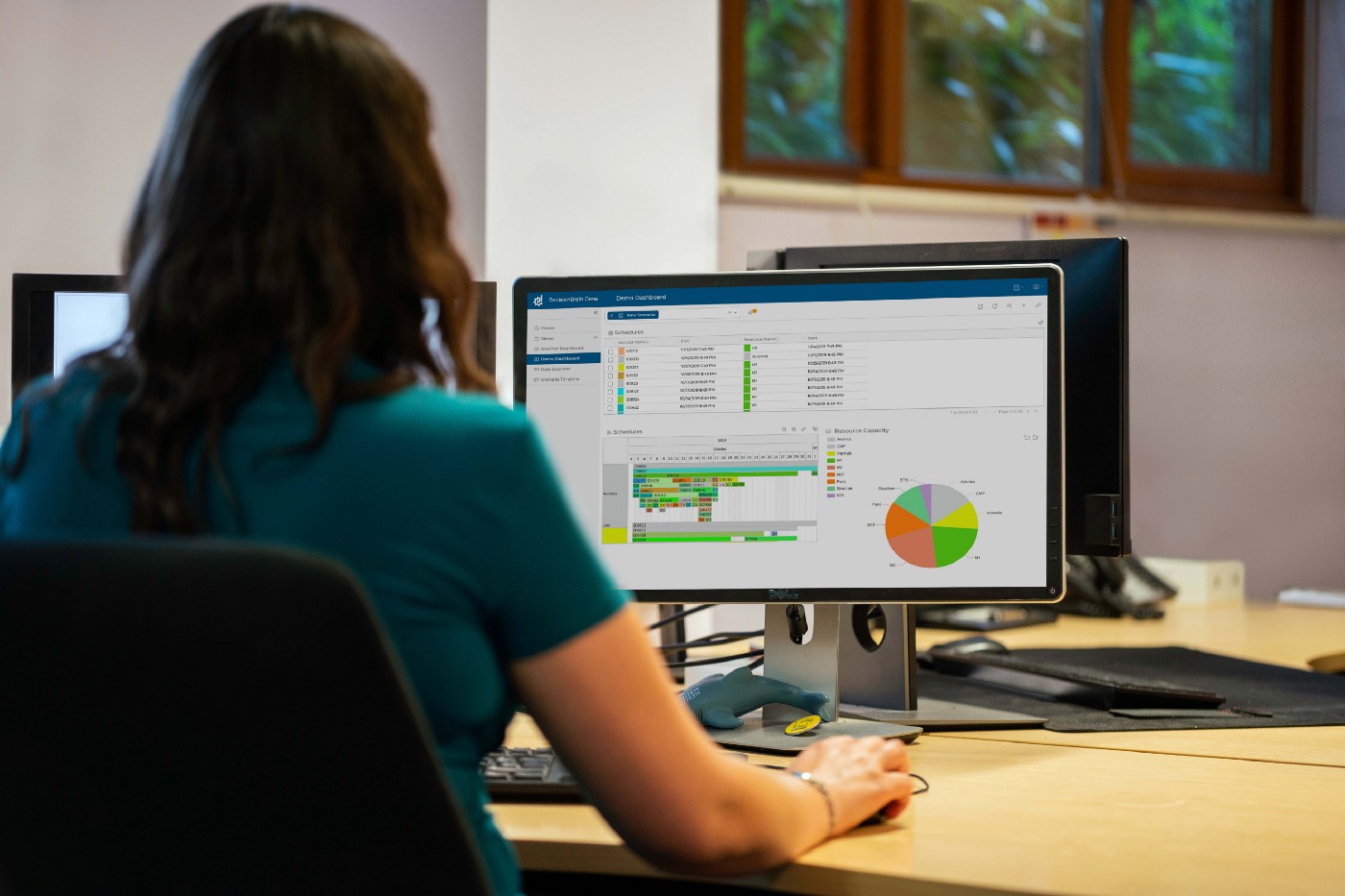 Bridging the Gap Between Mathematical Models and Full-Blown Business Applications
When discussing Optimization Solutions, we often focus on the optimization engine and the mathematical model. But business users are rarely interested in technical details. What they really need is an application that helps them make good decisions.

This requires large software development (web frontend, data integration) and IT development: the application needs to be deployed and monitored to make sure it is always up and running and continuously generates good results.

DOC 4.0 aims at bridging the gap between mathematical models and full-blown applications for business users.

To achieve this challenging goal, we analyzed the most common difficulties and risks arising when building business solutions:


Users' acceptance: Business users should be continuously involved during the development phases. Getting a minimum-viable-product in their hands as soon as possible is critical to embed their feedback, make them part of the development process and increase their acceptance
Data availability and quality: Data availability and quality are among the worst enemies of any application. Facilitating data readiness and checking for data consistency is critically important.
Time to market: The application needs to quickly generate a return on investment.

DOC provides out-of-the-box capabilities to address these issues and sensibly reduce the time and risk associated with creating tailored solutions for business users.
Modern and Configurable Web UI to Facilitate Users' Adoption
DOC comes with a large set of predefined modern web UI components such as tables, charts, data inspectors, dashboards, Gantt charts, pivot tables, etc.

You can configure them in a click, create your dashboards by drag-and-drop, synchronize multiple components, apply filters, and define the user access roles.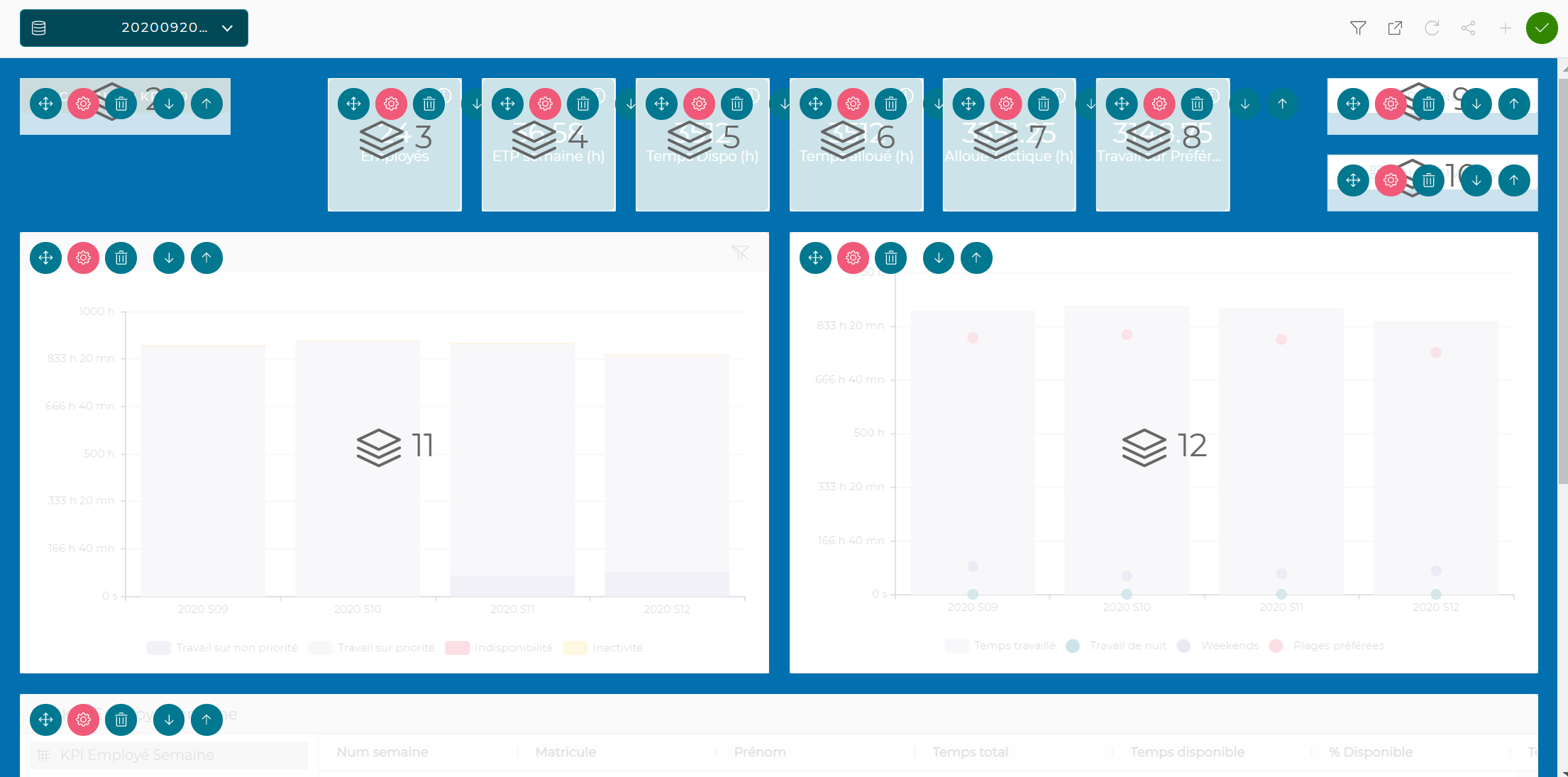 You can sit next to your business users during the project implementation, review the optimization results, and, based on their feedback, adjust the UI or create a new dashboard in a couple of clicks in real-time, without having to write a single line of code.
Out-of-the-Box Capabilities to Ease Data Readiness and What-if Analysis
DOC Data and Scenario Services provide templates for data import/export and validation mechanisms to identify potential data inconsistencies. Once external data is imported, it can be automatically displayed without requiring any new update.

Business users can review and edit the data using standard DOC UI components.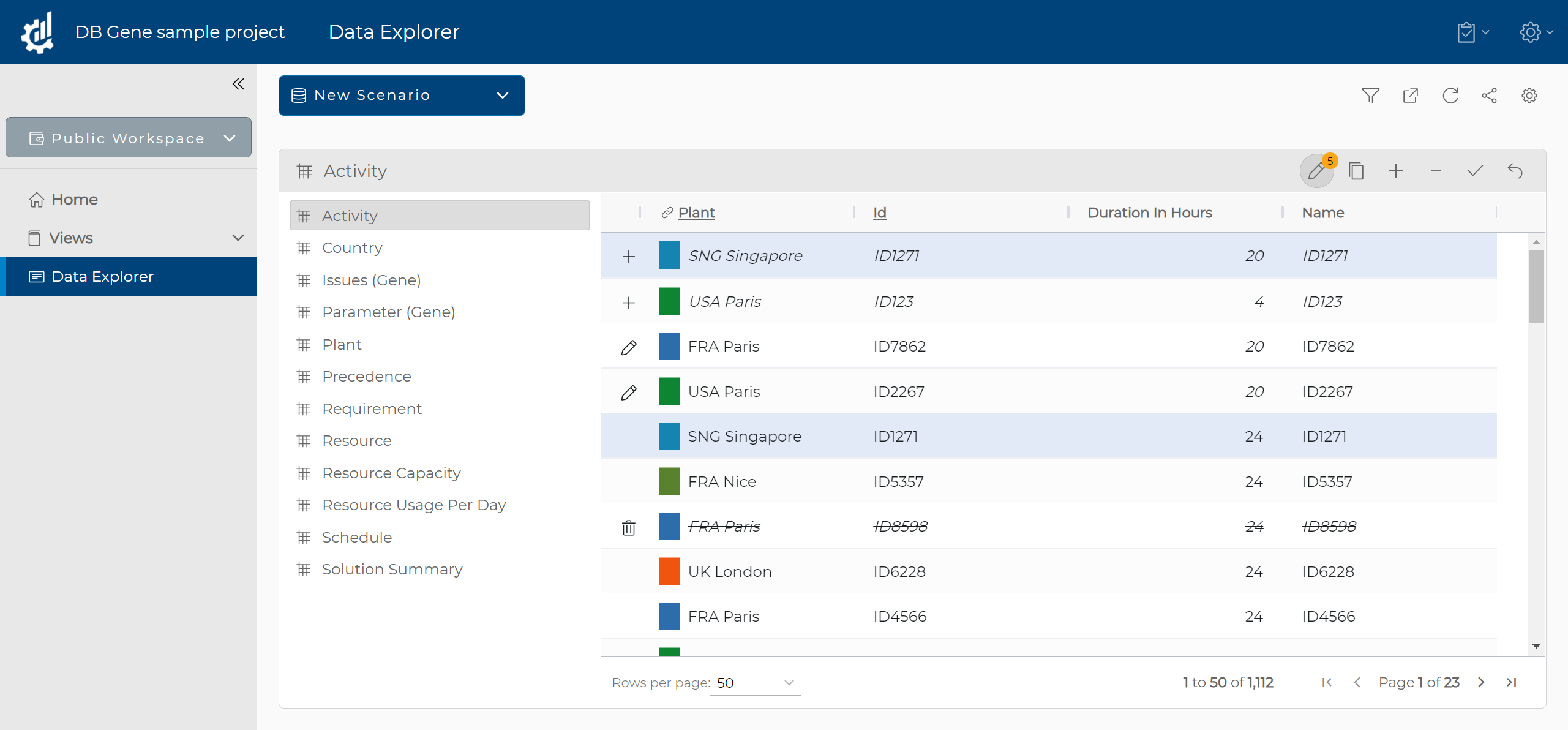 Once data is in shape, the business users can run the optimization and create solutions either interactively, automatically, or in a semi-interactive mode. They can build different scenarios and test multiple strategies, compare them in dedicated dashboards, publish the selected one, and share it with other users.
Quick Deployment and Enhanced Monitoring Capabilities to Guarantee the Application Stability
DOC supports both local deployments using Docker-Compose, which allows for quick deployments while developing the application, and industrial deployments thanks to a full Kubernetes and OpenShift compatibility. DOC provides full scalability, automation, resources monitoring, and failover capabilities.
Thanks to the cloud-ready
DOC Optimization Server,
you can monitor the real-time job execution, look for a past run, quickly spot failures, and check or download logs, input, and output files.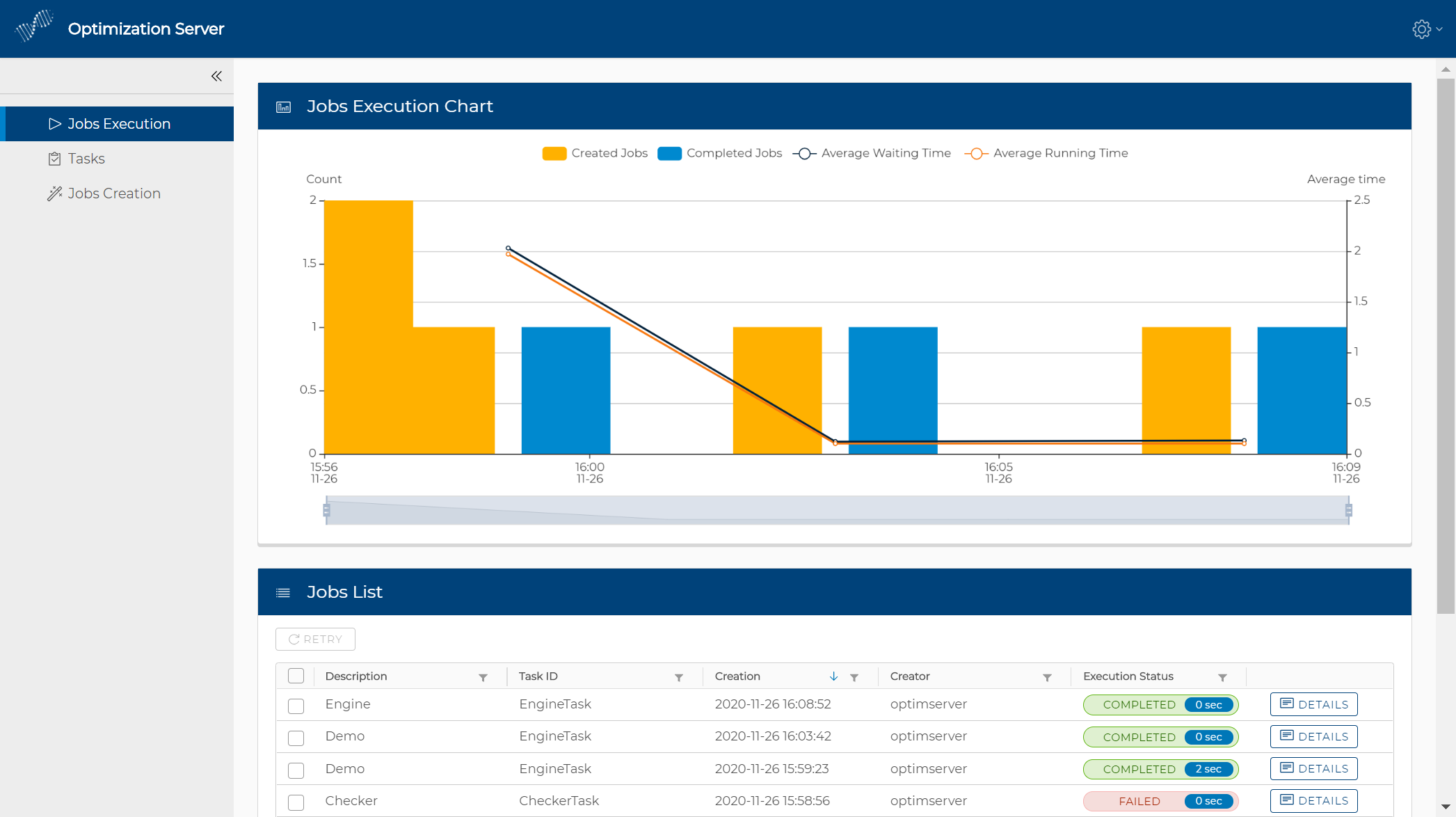 A key benefit of the Optimization Server is that you can retrieve historical input conditions and replay job executions to monitor any failures.
Enforced Agile Development Methodologies to Quickly Create ROI
DOC conforms with agile development methodologies: it enforces standard development and deployment practices improving teams' efficiency. Additionally, it facilitates continuous feedback from business users during application development.

In conclusion, DOC predefined components and agile methodology will sensibly reduce the effort, time, and risk associated with creating decision-support applications.
---
IBM® Decision Optimization Center provides a configurable platform for building and deploying and monitoring decision support applications for business users.
Stay up to date with our announcements and tutorials in our Medium blog!
---
The new version of DB Gene is available starting today! Learn all about DB Gene 4.0.2 fp2 in our video, our press release notes and documentation documents....
DecisionBrain annonce qu'il fait partie d'un consortium d'entreprises sélectionné comme lauréat du Climate Smart Cities Challenge pour Bogota...
DecisionBrain a été présenté dans "le Modern Facilities Management Podcast"l'émission où les professionnels de la gestion des installations échangent sur les nouvelles...
Filippo Focacci, cofondateur et CEO de DecisionBrain, interviewé par La Jaune et la Rouge, a pu aborder le sujet du Data Office : pilier de la politique IA et data des entreprises....
DecisionBrain a terminé finaliste lors de la soirée Prix Indus'RO 2022. Cette soirée événement organisée par ROADEF, la Société Française de Recherche Opérationnelle et d'Aide...
Why you should do a migration to IBM DOC 4.x? The maintenance of a DOC (Decision Optimization Center) 3.x application has become complex mostly because the technology/products...
In this paper, we discuss how to work around a number of workforce challenges companies face today and optimize workforce planning and scheduling at a strategic, tactical, and...
Industry analysts were recently predicting that it would take at least until the end of 2023 for the semiconductor chip shortage to subside. That was before Russia invaded...
Nous sommes fiers d'annoncer que nous sommes lauréats du Community Booster de l'IET (Institut européen d'innovation et de technologie) ! Nous avons été sélectionnés dans la...
DecisionBrain sélectionné comme finaliste pour le Climate Smart Cities Challenge avec Bogotá ! Le Climate Smart Cities Challenge est un concours d'innovation ouvert visant à...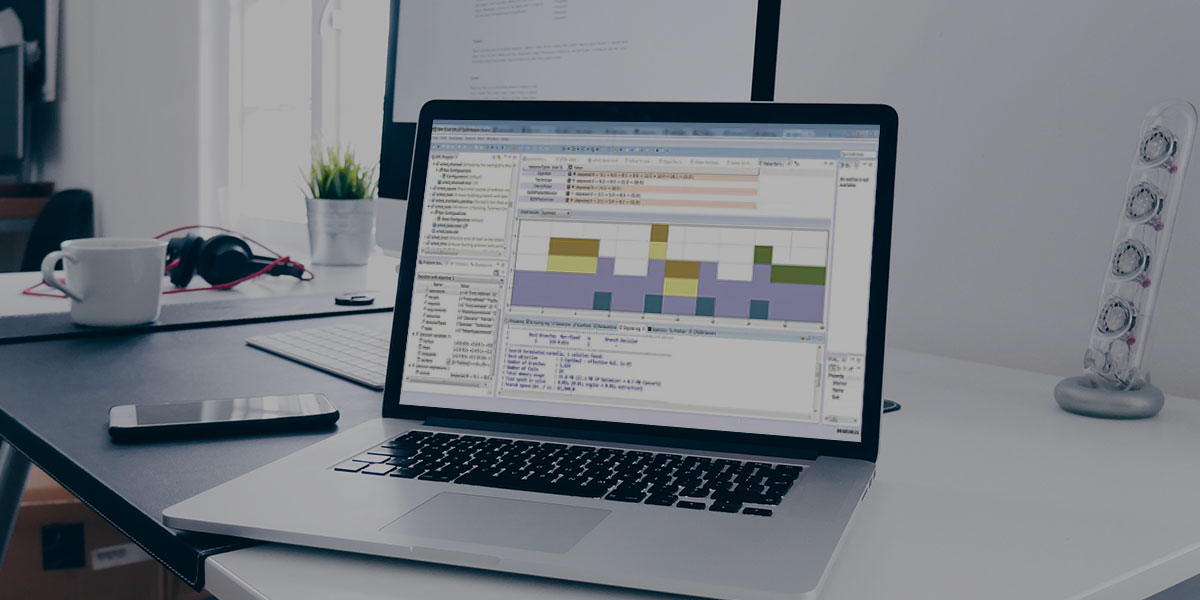 Téléchargez la fiche technique d'IBM CPLEX. Un solveur d'optimisation haute performance pour la programmation linéaire, en nombres entiers mixtes et quadratiques. Simplifiez...
A milk-run, in logistics, is a regular, multi-stop, round trip for either distribution or collection. Automotive manufacturers commonly use milk-runs to collect suppliers'...
Nous sommes fiers de vous annoncer que notre développement se poursuit. En 2021, nous avons atteint notre objectif de développer des projets dans un plus grand nombre de pays...
Ce post montre l'impact environnemental de l'optimisation des distances de déplacement des techniciens d'une grande entreprise de gestion des services sur le terrain (FSM) au...
Téléchargez la fiche technique DB Gene de DecisionBrain. Apprenez-en plus sur les fonctionnalités importantes incluses dans DB Gene 4.0. Ceci inclut les composants, les...
Téléchargez la fiche technique du Dynamic Scheduler de DecisionBrain. En savoir plus sur les fonctionnalités clés de Dynamic Scheduler. Il s'agit d'une solution de main-d'œuvre......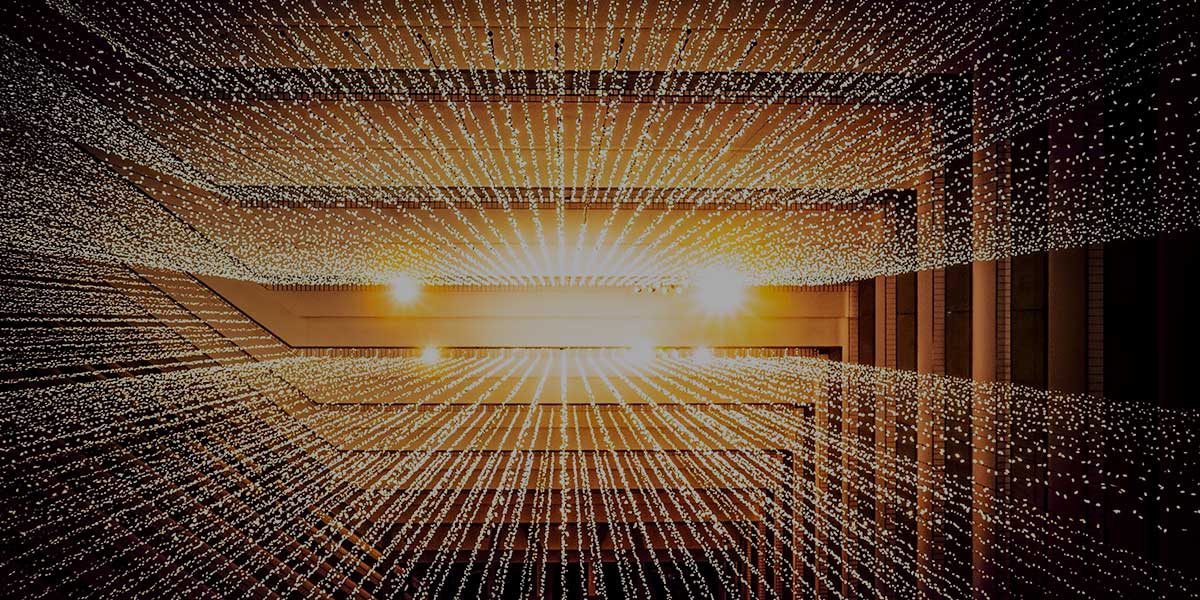 DecisionBrain rejoint l'association Hub France IA. Créé en 2017 par des membres indépendants de l'écosystème de l'Intelligence Artificielle en France, le Hub a pour ambition...
DecisionBrain est fier d'annoncer avoir signé un accord de licence et de distribution de technologie avec IBM pour être revendeur partenaire d' IBM Cplex Optimization Studio....
IBM Decision Optimization Center fournit une plateforme configurable pour la création, le déploiement et la surveillance d'applications d'aide à la décision pour les...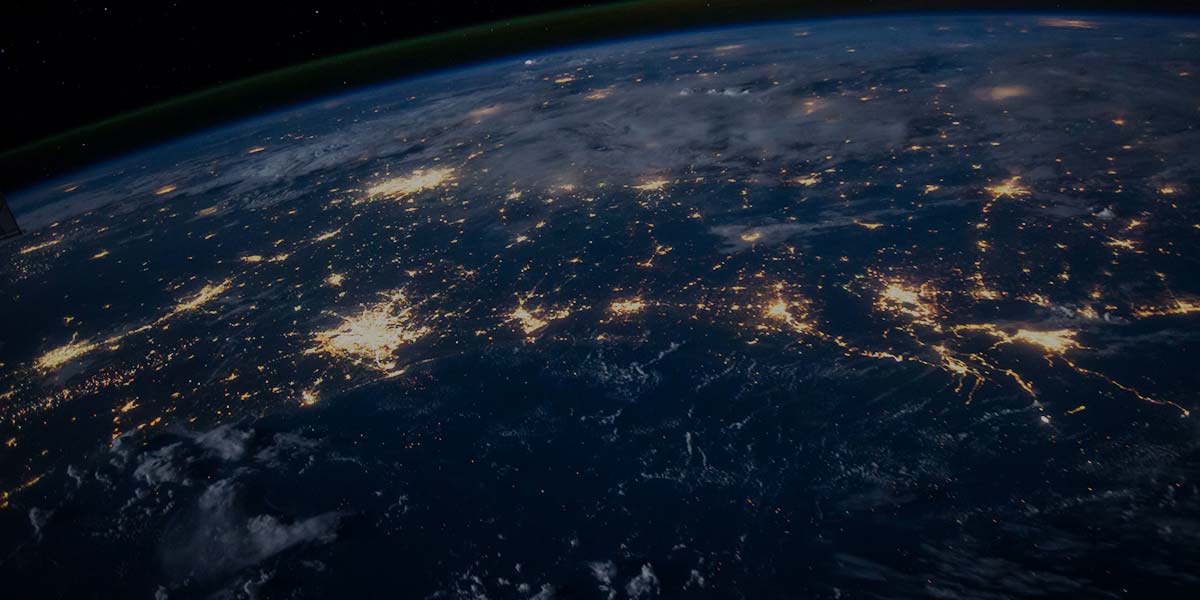 DecisionBrain est fier d'annoncer avoir signé un accord de collaboration avec l'entreprise japonaise Advances Technology Institute, Inc (ATI). ATI est une entreprise qui...
Après un an, beaucoup d'efforts et d'heures de travail, DecisionBrain est aujourd'hui heureux de vous informer que DOC 4.0.1 est maintenant disponible !...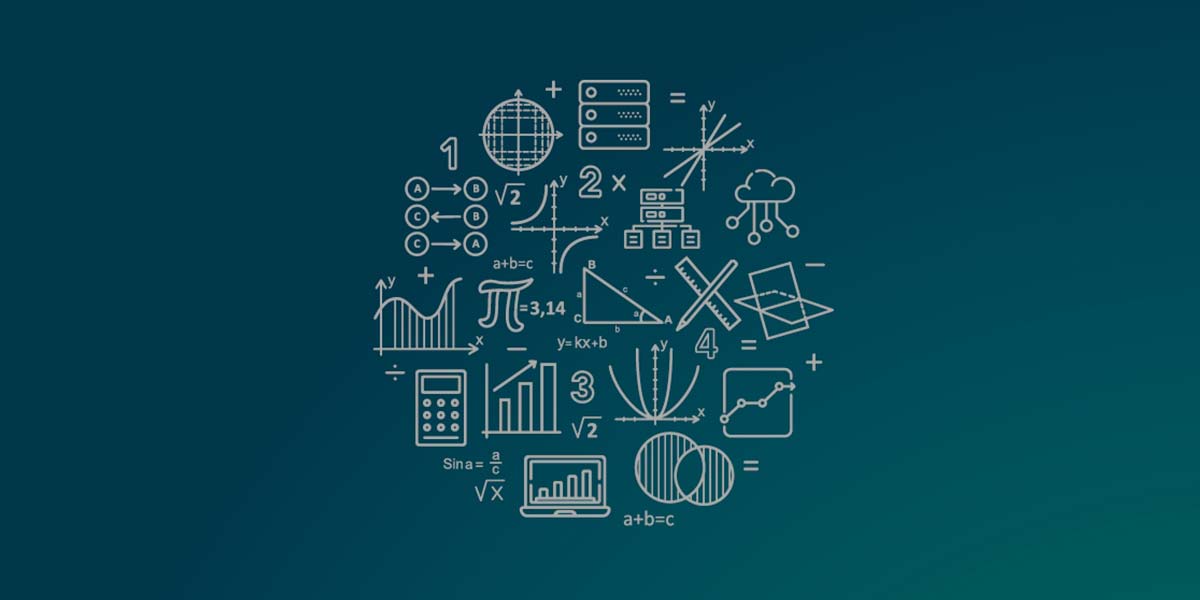 DecisionBrain est fier d'annoncer que pour la 5e année consécutive, nous serons l'un des sponsors de la 22e édition de ROADEF Mulhouse 2021. Cette édition est organisée par le...
Téléchargez la fiche technique DOC OS . Decision Optimization Center Optimization Server is powered by DecisionBrain and utilized by IBM as a crucial part of the overall DOC...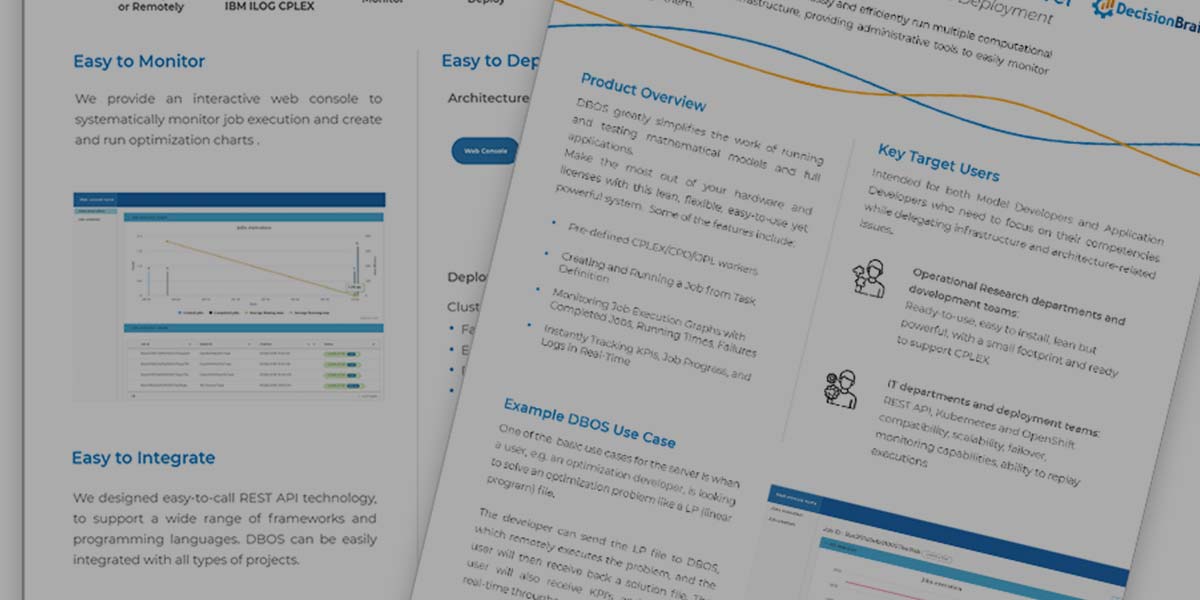 Téléchargez la fiche technique DOC sur DecisionBrain. En savoir plus sur les caractéristiques importantes incluses dans DOC 4.0. cela comprenait les composants, les clients et...
AI for Digital automation, un projet d'innovation public-privé prometteur. Mais il est nécessaire de faire progresser l'état de l'art en matière d'intelligence artificielle et...
AIDA : un projet structurant pour la compétitivité des entreprises françaises visant à positionner la France en leader de l'IA opérationnelle en entreprise....
Téléchargez le livre blanc sur le management des services de terrain par DecisionBrain. Améliorez votre connaissance du secteur grâce à des tactiques clés pour le choix de...
Téléchargez notre PDF méthodologie de services professionnels, DecisionBrain a développé les meilleures pratiques de services, des formations et des outils pour aider nos...
Si vous êtes comme moi et que vous travaillez dans une entreprise qui utilise Gradle comme outil de construction, vous vous êtes peut-être demandé, en écrivant les scripts de...
La recherche opérationnelle (RO) est une science aux fondements solides issus des mathématiques (théorie des graphes, optimisation combinatoire, géométrie convexe et non...
DecisionBrain est fier d'annoncer la sortie de son Optimization Server. Un système léger mais puissant conçu pour aider les scientifiques et les développeurs de bases données...
DecisionBrain annonce un accord selon lequel IBM inclura dans son offre de produits de données et d'IA une version OEM de la plate-forme d'optimisation DecisionBrain. La...
DecisionBrain est heureux d'annoncer qu'il a été sélectionné par un fournisseur de centre d'appel pour développer une solution de planification tactique et opérationnelle des...
DecisionBrain est heureux d'annoncer qu'il a été sélectionné par Carhartt, une société américaine leader dans le domaine du vêtement, pour développer, en partenariat avec IBM,...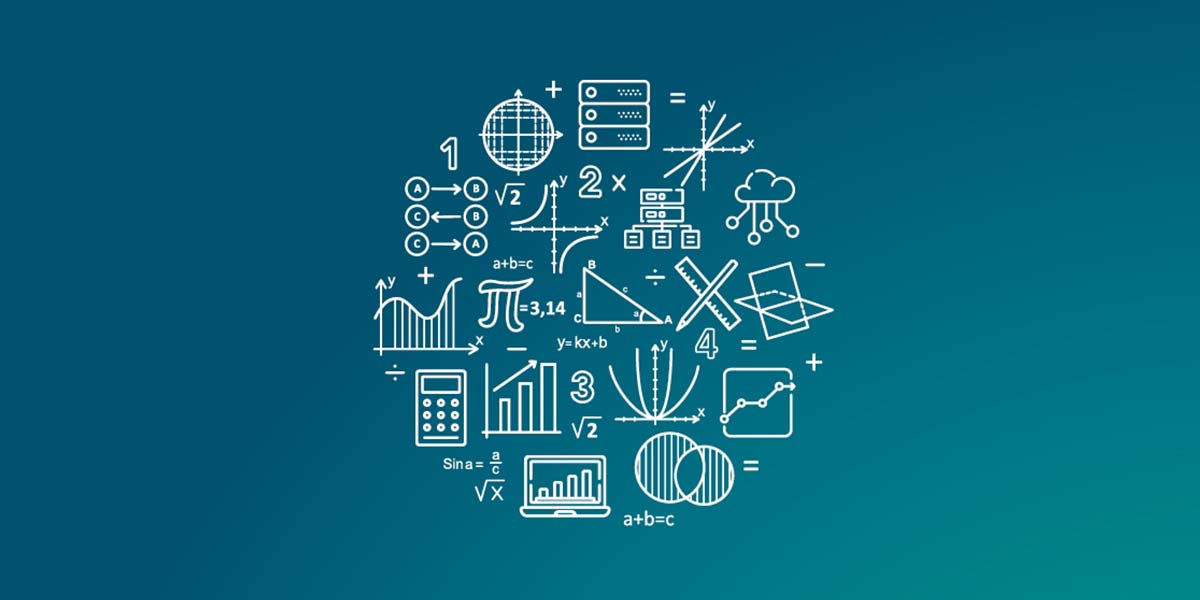 ROADEF a récompensé DecisionBrain à deux reprises avec "Les pros de la RO" pour le meilleur projet de RO de l'année : En 2018 pour notre solution de partage de vélos En 2015...
DecisionBrain est heureux d'annoncer un nouveau contrat avec un grand constructeur automobile, considéré comme une référence mondiale en matière d'innovation dans la chaîne...
DecisionBrain introduit le Planificateur Dynamique, un outil flexible mais puissant de planification de la main-d'œuvre mobile. S'appuyant sur l'expérience acquise en...
DecisionBrain est heureux d'annoncer qu'il a été sélectionné par un grand distributeur français, pour développer une solution de prévision des flux de trésorerie à court et...
Après une conclusion passionnante jusqu'en 2019 avec l'annonce d'un partenariat stratégique avec IBM DOC 4.0, DecisionBrain poursuit son expansion en 2020 en annonçant...
En 2018, la solution de partage de vélos de DecisionBrain a été finaliste du prix IBM Beacon Award for Outstanding Analytics Solution. Les prix IBM Beacon sont décernés aux...
Le projet de DecisionBrain appelé MODE (Match de l'Offre et de la Demande) fera correspondre les demandes des parents avec les places disponibles dans diverses crèches en...
Nous sommes fiers de l'équipe DecisionBrain qui a participé au concours Axa Code Challenge 2020 "Héros et Métros", classé 8e sur 70 équipes. Le Challenge du Code consistait à...
Nous sommes heureux d'annoncer, aujourd'hui, à l'occasion du 50e anniversaire de la Journée de la Terre, que le siège de DecisionBrain à Paris est passé à une énergie 100%...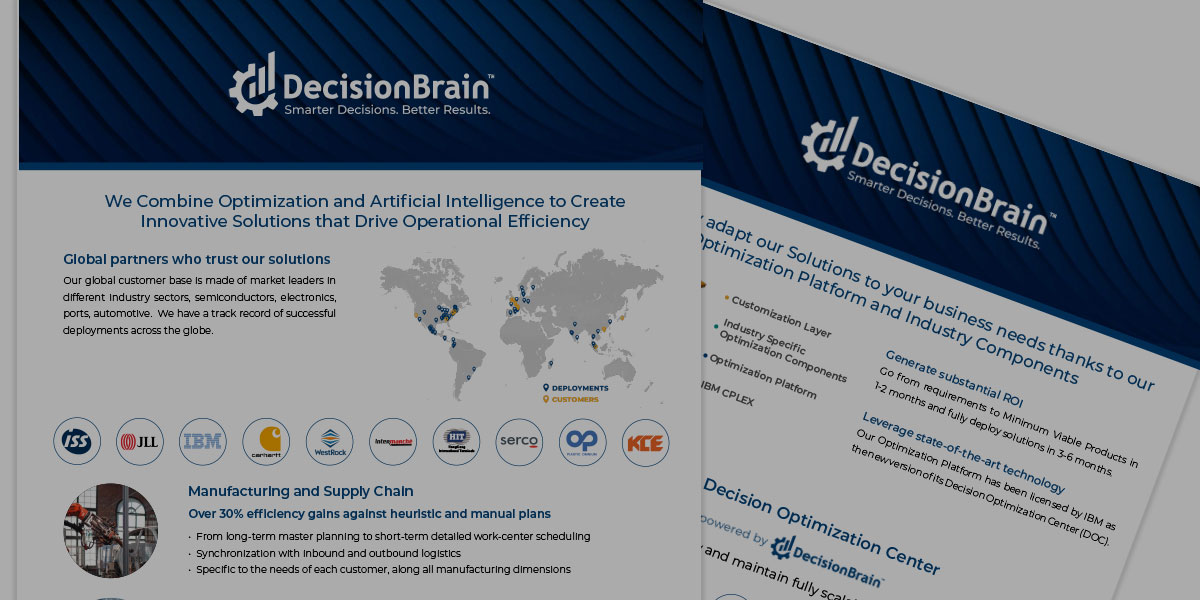 Téléchargez la brochure PDF de DecisionBrain. Nous combinons l'optimisation et l'intelligence artificielle pour créer des solutions innovantes qui favorisent l'efficacité...
Book a personal demo or speak with one of our product managers to learn more.