Major UI, Interactivity, and Data Management Enhancements in DBGene 4.0.3 by DecisionBrain
January 5, 2023 | News, Press Release
The new version of DB Gene is available!
PARIS, France January 5, 2023 /EINPresswire.com/ DecisionBrain, a leader in advanced analytics and optimization software solutions, released the latest version of its modular optimization application development platform, DBGene. DBGene 4.0.3 gives optimization developers the power to prototype, build, test and deploy custom enterprise planning, scheduling and logistics optimization applications built on both open source and industry-leading solvers like CPLEX and Gurobi, and with highly intuitive and interactive user interfaces (UI).
The latest version of DBGene includes several UI enhancements, such as:
New interactive map widget, useful for strategic design, routing and logistics applications among others.
Highly customizable design with support for different languages, fonts, colors - control every aspect of your map.
New horizontal chart widget, useful for displaying data with long category names or a large number of categories.
New calendar widget for easily displaying events by day/week/month or by list - useful for planning and scheduling applications across various time horizons.
Streamlined data type mapping to easily incorporate Tableau widgets into dashboards.
Conditional formatting in data-grids to enable a more Excel-like experience for users.
New Composite Widgets - enables a widget to be composed of 2 or more widgets separated by a draggable split bar or organized into tabs.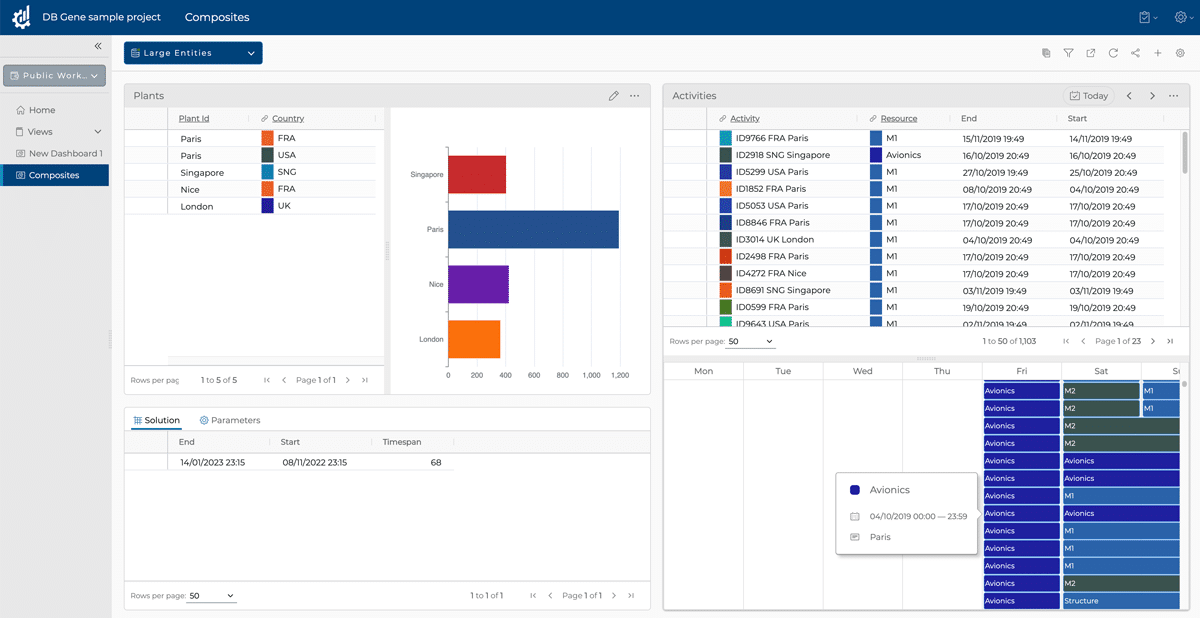 DBGene 4.0.3 also includes the following enhancements:
Support for Mac M1/M2 so that users can scaffold, build, run and deploy applications from the latest Macs powered by Apple Silicon CPUs.
Job auto-cleaning - For application deployed into production, job auto-cleaning can automatically remove old jobs based on max-age and/or the maximum number of jobs to keep in the database.
Library updates, including support for Keycloak-19 - Quarkus distribution, which improves application startup time and resource usage.
Book a personal demo or speak with one of our product managers to learn more.