---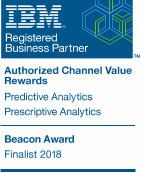 DecisionBrain is a Global IBM Business Partner
---
Since its inception in 2013, DecisionBrain has been a strong IBM partner in the development of customized optimization solutions based on IBM advanced analytics technologies. DecisionBrain founders worked for several years for ILOG, the global leading provider of optimization technology, and joined IBM after the company was acquired by IBM in 2009. Many of our employees are former ILOG and/or IBM employees, which makes us global experts in some of IBM advanced analytics products:
IBM ILOG CPLEX Optimization Studio Optimization model development toolkit for mathematical and constraint programming.
IBM Decision Optimization Center Enterprise platform for building and deploying analytical decision support applications.
IBM Watson Studio Integrated environment designed to make it easy to develop, train, manage models and deploy AI-powered applications.
We have an extensive track record of successful implementations of solutions based on IBM analytics technologies. In 2018, one of our solutions was nominated finalist of the IBM Beacon Award, a recognition IBM gives to those business partners that deliver outstanding, innovative and value generating solutions for its customers. DecisionBrain is part of an IBM-led consortium to research, experiment, design, and develop the next generation platform and solutions using Artificial Intelligent technology to optimize business operations.
---