Optimize Your Field Service Planning, Scheduling and Routing with Measurable Results
Improve efficiency and service level by 10-40%
AI-powered decision support software guides planners in making optimal workforce decisions, whether for long-term strategic decision making, tactical planning months or weeks out, or for operational task assignment, scheduling and routing on a daily or hourly basis.

Give us 30 minutes, and we will show you how you can:
Match employees and skills to meet work demand
Assign the right employees to the right tasks at the right time based on any number of objectives
Create daily or weekly agendas, routes and task plans
Test and analyze the impact of different workload scenarios, team structures or skillset mixes
Justify investments, like recruitment, new hire training and upskilling by showing the projected impact on key performance indicators
Ideal for planning and scheduling large teams of field services technicians, construction crews, sanitation workers, caterers, inspectors, field sales and support personnel, medical and home care providers and more.
Complete this form to learn more about how we can help you fully optimize your workforce scheduling procedures.


Trusted by companies around the world.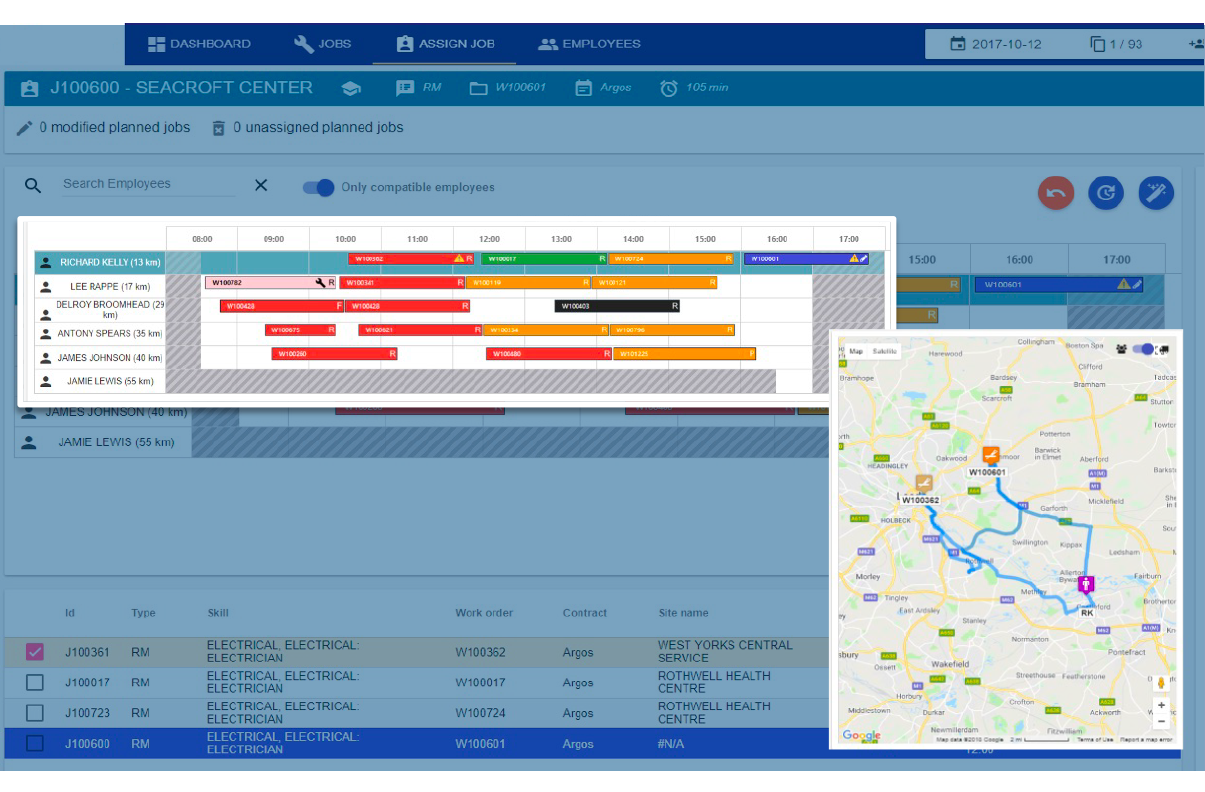 Ideal for organizations with field teams of at least 300 and unique or complex requirements, like:
Work locations and staff are geographically distributed The work may be a mix of seasonal, regular recurring (maintenance) and reactive jobs
Workload must be balanced over time
Last-minute situations require adjustments that have ripple effects on the schedule
Different cost structures, skills and/or equipment availability must be considered
Allowable visit windows may vary
Customer priorities and service level agreements vary
Our experience spans both strategic planning and operational schedule and includes:
Scheduling of elevator repair and maintenance technicians
Optimized redistribution of bikes for a major bike hire/sharing scheme with 12,000 bikes across 800 stations in a congested city.
Scheduling of field service technicians who perform both reactive and preventative maintenance of commercial real estate properties (HVAC systems, etc).
Scheduling of healthcare sales reps and service providers to doctor's offices and hospitals with limited visit windows
Strategic planning for a field services company, including determining optimal workforce size, skillset mix, shift structure, and mix of full-time vs contract work