Real Estate, Maintenance & Facility Services
Optimization opportunities for Real Estate, Maintenance, Facility Services and organizations with mobile teams, such as technicians, engineers, pharma sales representatives, home healthcare, cleaners and others.
Organizations with large and distributed teams of skilled workers experience inefficiencies, such as workers driving unnecessary miles, assigning an expensive or over-qualified technician to a simple job, or missing opportunities to combine, say, reactive and recurring maintenance jobs in a single run.


DecisionBrain helps you achieve
optimal planning, assignment, scheduling and routing
of your field services staff with Optimization.
Optimization is about taking a data-driven approach to assigning the right job(s) at the right time to the right worker based on demand and available workers/resources. Considering various and often competing objectives:
Labor costs and laws
Customer service levels
Employee preferences
Customer visit windows
Skillset and equipment requirements
Service-level agreements (SLA's)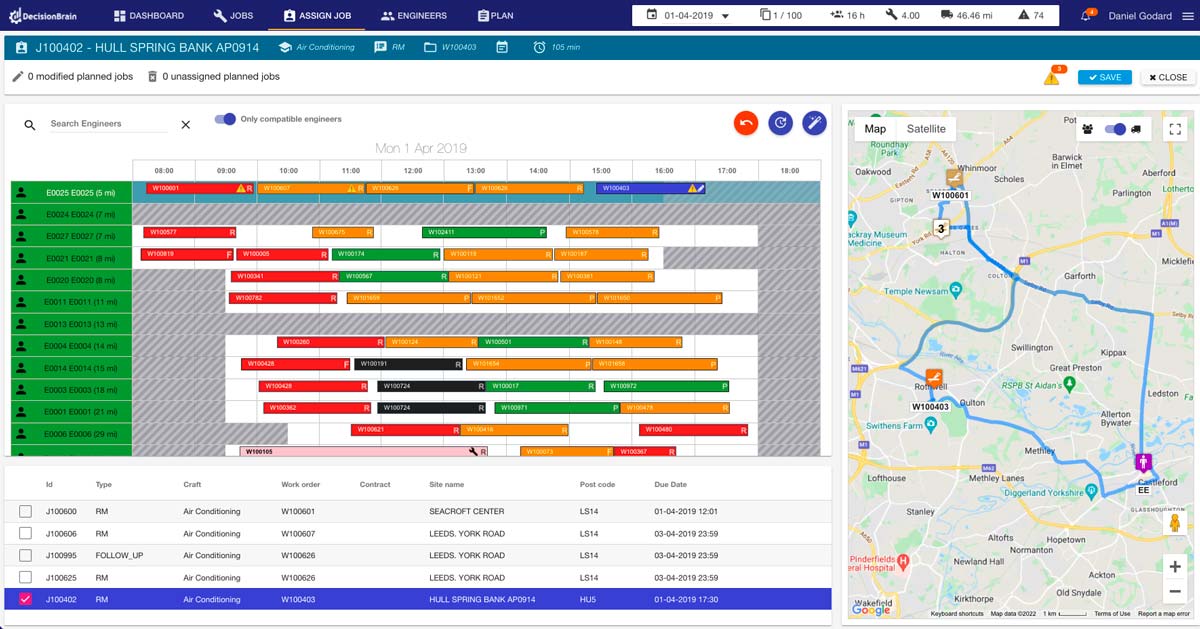 Fully Custom Workforce Solutions
AI Optimization solvers can quickly sifts through millions of possible solutions (plans/schedules) and quickly arrive at a very good solution.

DecisionBrain offers both custom-built workforce optimization applications, software modules and a full development platform that make it easy for us or for customers with some optimization knowledge to develop and maintain their own optimization-based solutions.
If you operate in a complex field service environment, you likely have a large opportunity to improve the efficiency of your field operations. Especially if:


Facilities and staff are geographically distributed and may spend a lot of time traveling
The work may be a mix of regular recurring maintenance and reactive jobs
Last-minute situations require adjustments that have ripple effects on the schedule
Different skills and/or equipment availability must be considered
Allowable visit windows may vary
Customer priorities and service level agreements vary
Optimization can lead to:
Optimal planning and scheduling of work orders
Real-time response to unexpected events
Right-sizing of the workforce and improving productivity
Minimize Traveling Time and CO2 emissions
Respect agreed-upon service levels
Customer Case Study: Integral & JLL
Integral UK Ltd is the leading Mechanical, Electrical, and Fabric property maintenance business in the UK, providing both Planned Preventative and Reactive Maintenance to over 1,600 clients in 60,000 locations. In 2016, Integral was acquired by JLL making it part of the larger JLL real estate management brand.
The challenge provided to DecisionBrain was how Integral could take its engineer field service distribution to higher productivity levels with optimization and dynamic scheduling tools. This video includes the solution and customer reviews of the tool.
Read more about this case study.
Book a personal demo or speak with one of our product managers to learn more.