Optimize Your Call Center Workforce for Optimal Results
Improve margins by 10-20%
Using optimization technology to create the right workforce structure, you will always satisfy demand and customer satisfaction.
Give us 30 minutes, and we will show you how.
You may have the best workforce in the world, but if schedules are not fully optimized, you could be creating customer churn and employee burnout.
Visualize daily workload against employees' capacity by skill and team
Identify the optimal workforce size necessary to deploy expected workload
Benchmark operations along different productivity and efficiency metrics and identify best performing teams
Complete this form to learn more about how we can help you get the most return from your call center workforce.
Trusted by companies around the world.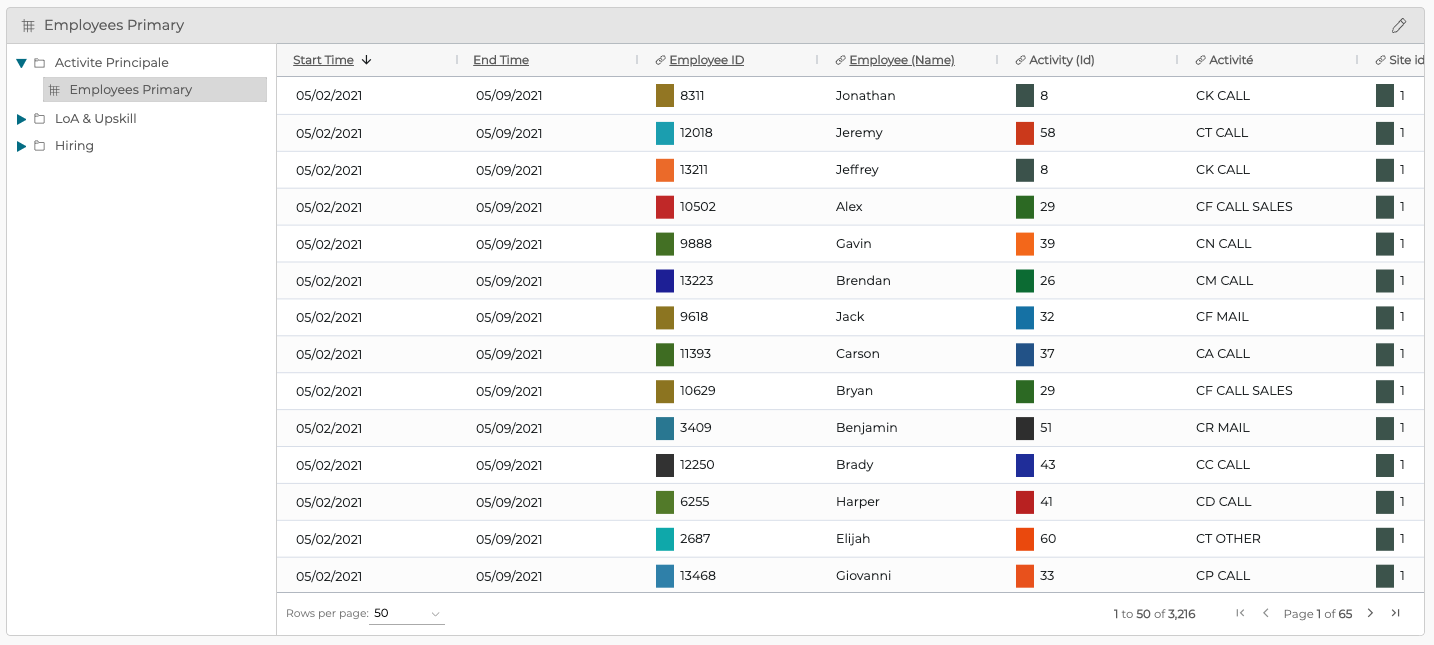 Strategic (Long-Term) Planning
Benchmark your operations using the right productivity and efficiency metrics
Determine the optimal workforce size, shift configuration and skillset mix based on your benchmarks, forecasts and budget
Test and analyze the impact of reallocating tasks or changing the type of resources allocated to teams
Identify cost-effective "in-sourcing" opportunities to bring contracted work inhouse
Justify investments, like recruitment, new hire training and upskilling by showing the projected impact on your key performance indicators
Tactical (Medium-Term) Planning
Create high quality monthly training, staffing and leave plans and weekly shifts/schedules supported by a system that simultaneously considers demand coverage, employee wishes, compliance regulations, cost and any number of additional preferences and rules
Provide managers, planners and/or employees with flexibility in proposing adjustments, seeing impacts and committing or rolling back the changes
Minimize inefficiencies resulting from agents switching between different kinds of activities too often through smart assignment and sequencing of calls/tasks
Automatically detect overstaffing in order to trigger impromptu training sessions or provide short-notice leave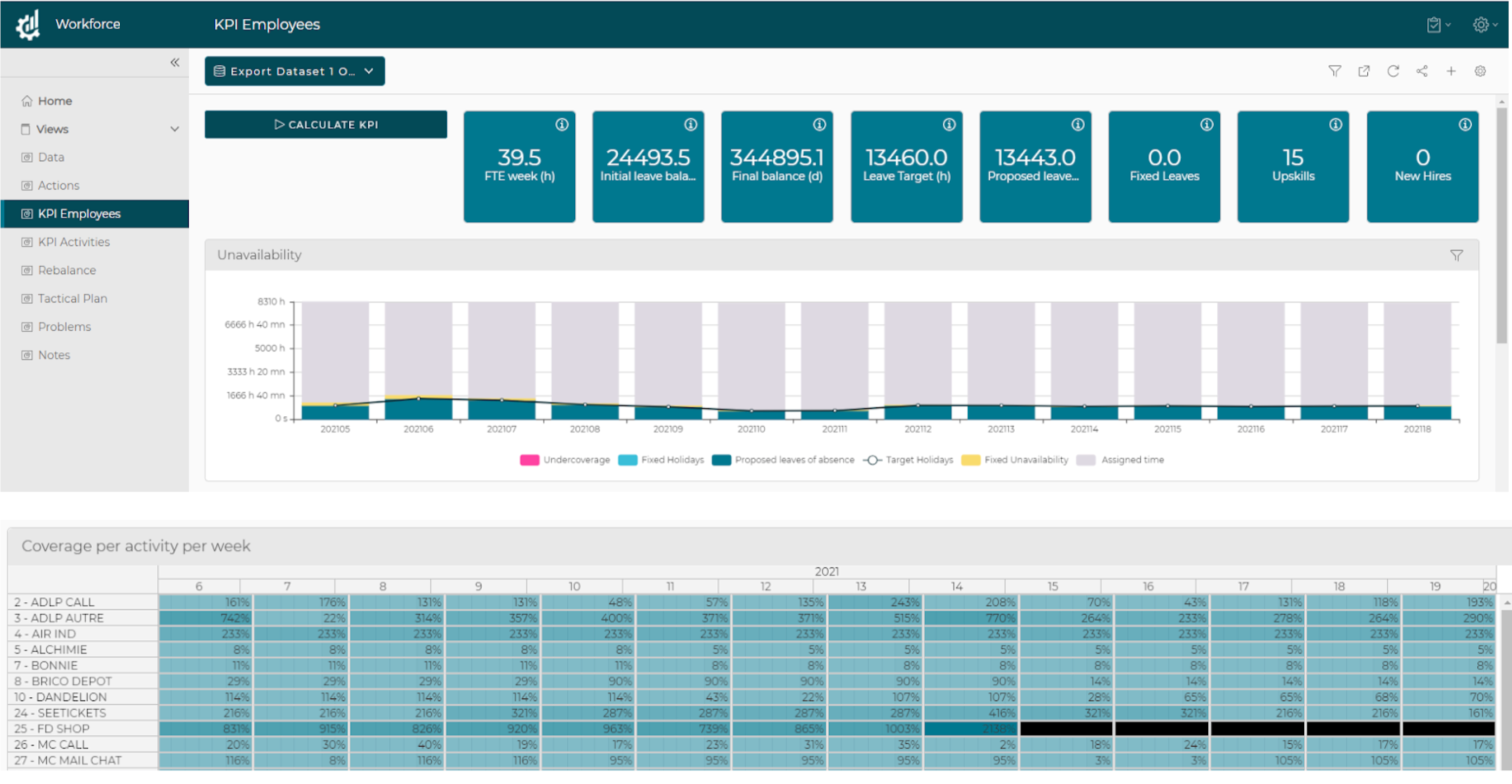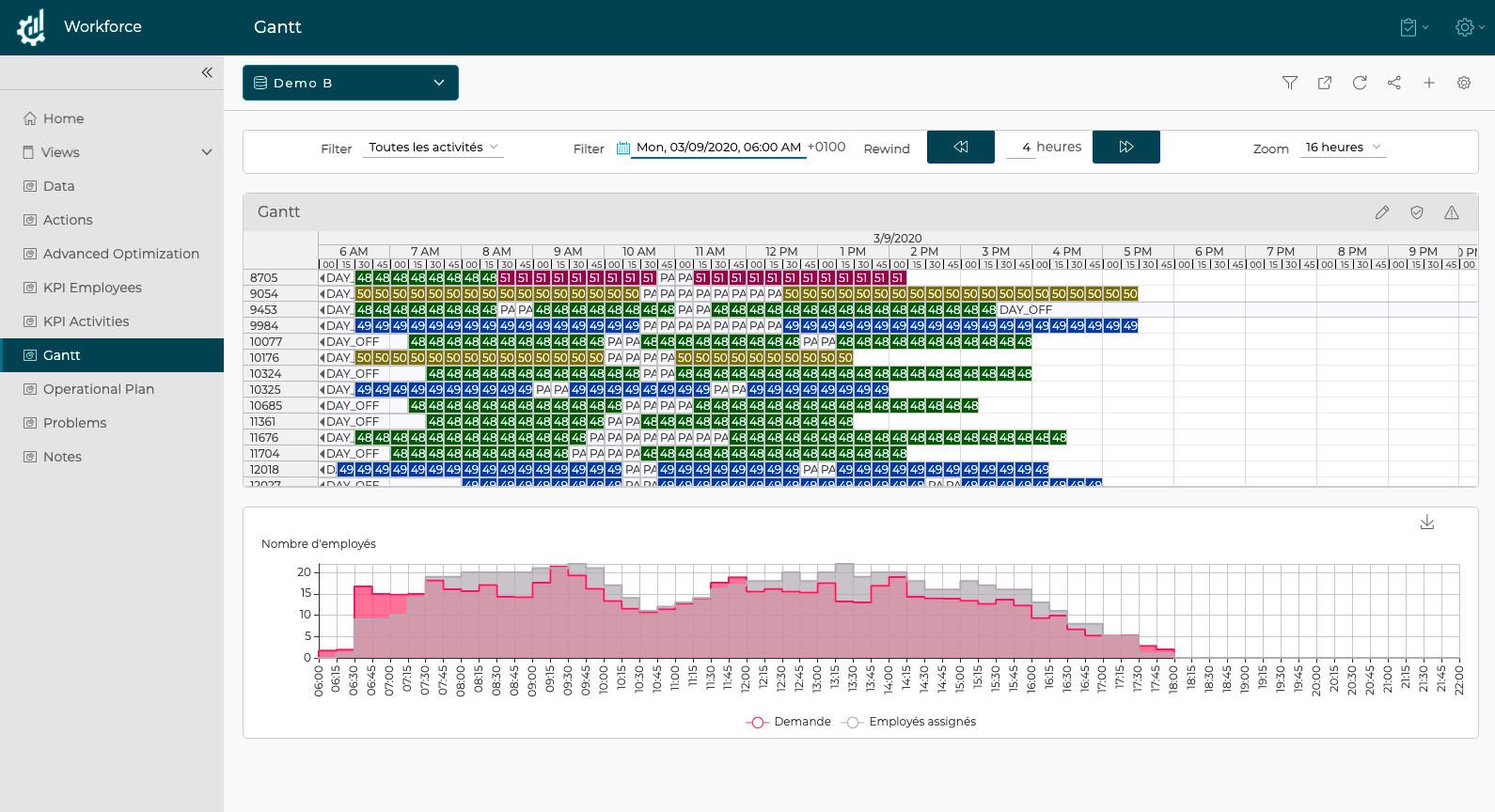 Operational (Daily/Hourly) Scheduling
Improve productivity by assigning the right agent to the right task at the right moment based on demand, agent availability & preferences, skill requirements, customer/task prioritization and many other considerations
Guide the optimizer to the desired schedule by adjusting tradeoff between competing goals, such as demand coverage, employee wishes and cost
Adjust intra-day levers in response to unforeseen circumstances (overtime, contractors, etc), then select the schedule adjustment desired based on KPI metrics
Allow agents to adjust schedules, swap shifts or be offered overtime or shift extensions if desired